Eric Carl Sjoblom Golf Tournament and Fund
Benefiting the Tomorrow Fund
Eric, our 27-month-old beautiful baby boy, had not been feeling well for a couple of weeks. On January 27th, 2004, we took him to Hasbro Children's Hospital in Providence, RI. We were shocked and terrified when he was diagnosed with Stage IV of the cancer Neuroblastoma.
The cancer had started in his adrenal gland but had spread to his liver, bone marrow, lymph nodes, and pelvic bones. Three days later, Eric started his first round of chemotherapy. He responded well at first but began having trouble breathing after a few days. He was admitted to the Pediatric Intensive Care Unit, where his lungs continued to get worse.
The doctors determined that Eric had contracted the Respiratory Syncytial Virus Infection (RSV) which is a virus that attacks the lungs. Because the chemotherapy had affected his immune system, he could not combat the virus, and Eric lost his short battle on Valentine's Day, 2004.
The day Eric was admitted, a man came to our room and said that he was from The Tomorrow Fund. He told us that a social worker and parent consultant would be coming by the next day, and every day that we were in the hospital, with a stipend to help us pay for food. When we told him we didn't need money, he said that every family with a child in the hospital fighting cancer gets it, no matter what. He told us about other services that The Tomorrow Fund offers as well. He was kind and compassionate, and it was a brief respite from the endless discussions we'd been having with the doctors that horrible day.
During the time Eric was in the hospital, The Tomorrow Fund, in addition to the stipend and parking vouchers, provided a social worker and parent consultant to answer questions about cancer, treatment, insurance, emotional issues, talking to Eric's older sisters, and many other topics. After Eric passed, The Tomorrow Fund paid for our outstanding medical bills and funeral expenses and continued to help us with emotional support. We will be forever grateful to these wonderful people who helped us during Eric's sickness and continue to support us today.
For the past 19 years, with the support and compassion of our friends and family, the ECS Memorial Fund has been able to raise over $250,000 in Eric's name. We know that he would be so proud of us and all who donate in his honor. On behalf of the many brave children and their families who are in the fight for their lives, and in memory of our beloved Eric, we sincerely thank you for your kindness and generosity.

Sincerely,
The Sjoblom and DiGiacomo Families



The Sjoblom Family
&
The DiGiacomo Family
www.ecsfund.org
The Tomorrow Fund is the only local non-profit organization in RI that provides daily emotional and financial support to children with cancer and their families. The Tomorrow Fund is an independent non-profit agency located on the Rhode Island Hospital campus.
More than 90% of the children diagnosed with cancer in Rhode Island and southeastern Massachusetts are treated in The Tomorrow Fund Clinic at Hasbro Children's Hospital. Widely recognized for the high quality of its oncology treatments and medical services, the Clinic's program is also noted for its compassionate approach to children and their families.
Please visit tomorrowfund.org for more info.
Neuroblastoma accounts for 14% of all cancers in children younger than five years of age. It is a solid tumor cancer that begins in the nerve tissue in the neck, abdomen, or pelvis, but usually originates in the abdomen in the tissue of the adrenal gland.
Nearly 70% of those children first diagnosed have disease that has already metastasized or spread to other parts of the body. The average age at diagnosis is two years old.
Prognosis of Neuroblastoma is dependent on age, stage of disease, and specific characteristics of the tumor. There is very little known about why Neuroblastoma occurs, or about what factors increase the risk for occurrence.
Visit cncfhope.org for more info.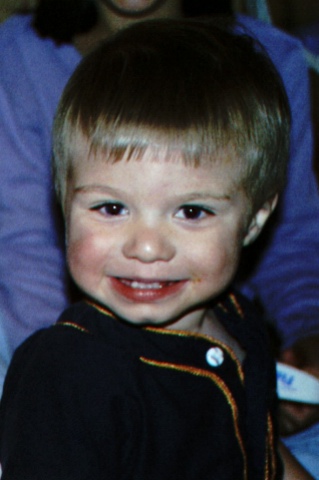 Eric Carl Sjoblom
God's gift and blessing to us who returned to him way too soon.
The Dragonfly
Once, in a little pond, in the muddy water under the lily pads, there lived a little water beetle in a community of water beetles. They lived a simple and comfortable life in the pond with few disturbances and interruptions. Once in a while, sadness would come to the community when one of their fellow beetles would climb the stem of a lily pad and would never be seen again. They knew when this happened, their friend was gone forever. Then, one day, one little water beetle felt the irresistible urge to climb up that stem. However, he was determined that he would not leave forever. He would come back and tell his friends what he had found at the top. When he reached the top and climbed out of the water onto the surface of the lily pad, he was so tired, and the sun felt so warm, that he decided that he must take a nap. As he slept, his body changed and when he woke up, he had turned into a beautiful blue-tailed dragonfly with broad wings and a slender body designed for flying. So, fly he did! And, as he soared he saw the beauty of a whole new world and a far superior way of life to what he had never known existed. Then he remembered his beetle friends and how they were thinking by now he was gone forever. He wanted to go back to tell them, and explain to them that he was now more alive than he had ever been before. His life had been fulfilled rather than ended. But, his new body would not go down into the water. He could not get back to tell his friends the good news. Then he understood that their time would come, when they, too would know what he now knew. So, he raised his wings and flew off into his joyous new life!
~Author Unknown~
# of Annual Golf Tournaments
Dollars Raised in Eric's Name